This is a weekly meme hosted by Uncorked Thoughts. Check her out for more information about the meme.
Judging by your family, would you be a Muggle-Born, Half-Blood, or Pure-Blood?
No matter how much I want to say I'm a full-blown witch, I feel like I'm a Muggle-Born. Although, a lot of legends pertain to Filipinos being witches and wizards, but those aren't the good kind. I feel like I'm a Muggle-Born because I'm the odd ball out, I'm pretty much the only that reads in both sides of my family, so from that already they can't relate to me, or vice versa. Also, my family just doesn't seem the "magic" kind. It doesn't mean that I'm not proud to be a Muggle-Born though, because Hermione is one and look where she is now. But, I'm still waiting for that Hogwarts letter, though even though I may or may not be 16 already.....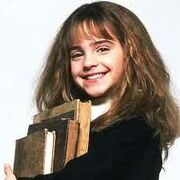 This is so me, by the way, in school, just not with a smile.