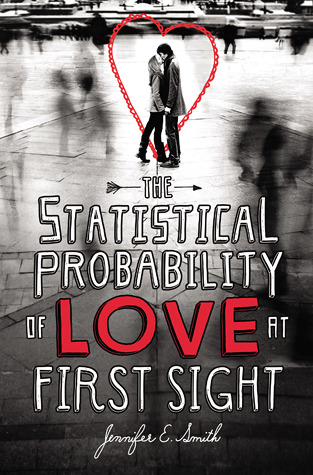 Title:
The Statistical Probability of Love at First Sight
Author:
Jennifer E. Smith
Series:
Stand-alone
Released: January 1, 2011
Rating:
Synopsis:
Who would have guessed that four minutes could change everything?
Today should be one of the worst days of seventeen-year-old Hadley Sullivan's life. Having missed her flight, she's stuck at JFK airport and late to her father's second wedding, which is taking place in London and involves a soon-to-be stepmother Hadley's never even met. Then she meets the perfect boy in the airport's cramped waiting area. His name is Oliver, he's British, and he's sitting in her row.
A long night on the plane passes in the blink of an eye, and Hadley and Oliver lose track of each other in the airport chaos upon arrival. Can fate intervene to bring them together once more?
Quirks of timing play out in this romantic and cinematic novel about family connections, second chances, and first loves. Set over a twenty-four-hour-period, Hadley and Oliver's story will make you believe that true love finds you when you're least expecting it.
Although shorter than This Is What Happy Looks Like by JES, mainly because of the time frame, this contemporary provided a more dense story. This is one of my most anticipated fall reads, actually, but I couldn't resist myself, so I picked it up for the July Trees of Reverie Readathon. The story definitely presented a major character development, and a lot of anticipation and build up, even though it's only has 200 plus pages.
This is actually the first story I read surrounding an airport/airplane so that's really refreshing. I didn't think I would like it because I hate airports, they stink and are really crowded. I like how the story only has a 24-hour time frame, and makes the point that every minute of any day can change your life.
The plot itself wasn't heavy but it was not all fluff, heavy scenes with real emotion were thrown in there and it was just the right amount. Even though, the time frame was short, the main protagonist, Hadley, definitely had character development and was able to come into terms with the issues she had.
The only disappointing thing this about the story is that the synopsis was a little exaggerated, and I was expecting a majorly swoon-worthy British guy. Oliver did not disappoint, per se, with his accent, looks, and humor but I was just expecting more. Also, for me, there were some plot holes that needed to be tied in.
This is definitely a must read for those romantic ones out there. I'm not one for overly cheesy romance books, but I really liked this one. The story touched two kinds of love, and that was really heartwarming, yet heartbreaking at the same time.
What are your thoughts? Tell me in the comments below and I'll see y'all in my next one!