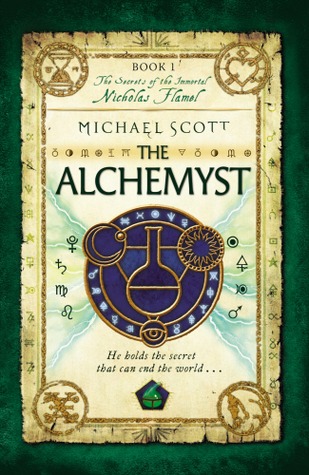 Title: The Alchemyst Author: Michael Scott Series: The Secrets of the Immortal Nicholas Flamel #1
Released: January 1, 2007
Pages: 400
Synopsis:
Nicholas Flamel was born in Paris on 28 September 1330. Nearly seven hundred years later, he is acknowledged as the greatest Alchemyst of his day. It is said that he discovered the secret of eternal life. The records show that he died in 1418. But his tomb is empty and Nicholas Flamel lives. The secret of eternal life is hidden within the book he protects - the Book of Abraham the Mage. It's the most powerful book that has ever existed. In the wrong hands, it will destroy the world. And that's exactly what Dr. John Dee plans to do when he steals it. Humankind won't know what's happening until it's too late. And if the prophecy is right, Sophie and Josh Newman are the only ones with the power to save the world as we know it. Sometimes legends are true. And Sophie and Josh Newman are about to find themselves in the middle of the greatest legend of all time.
I read this book during the June Trees of Reverie Read-a-thon mainly because I couldn't think of a theme so I just decided on doing a series catch up type of TBR pile. I was planning to read the whole series, but it's six books long and I wanted to start and catch up on other series. I have had this book for I think three years already and I did read it before, like two years ago, but then I guess I decided to stop halfway. When I started reading it again for the read-a-thon, I found out that I couldn't remember anything, but I do remember getting bored with it, but during this time around, I actually quite liked it.
The main thing I absolutely love in this book is the world-building. It wasn't fast, to the point that the author is just randomly throwing things at you, and I like how not all the aspects of the fantasy world was introduced in this book and left you kind of hanging. I know people don't really like that, but I do because it just makes you want to read it faster. There was enough suspense and action, but in some point it did get kind of heavy on the action that it took up a lot of pages, but that only occurred 2 or 3 times.
The second thing I like about this are the historical tie-ins. The characters, except for the two main protagonists, are actually pretty well known, they have their own Wikipedia pages, that counts right? Whether they were actual famous people, Nicholas Flamel for example, or just people from mythologies, such as Norse. Also, there were actual happenings from our world history that were included. And I thought that was just really cool. I have not read any type or kind of historical fiction books, so I don't really have anything to compare this book with.

I also related to both of the main protagonists in some kind of way during the course of the book and that definitely added a bonus. I'm not overly attached to them or anything but I feel like I don't really relate to characters that much, especially in fantasy books.

The only thing I was not really pleased about this book was that some parts were so redundant that you'll just find yourself saying "I know you've mentioned it like two pages ago," like seriously. And, also the character development is not really there yet. You don't really see the characters grow that much, maybe because there were a lot of characters introduced, kind of.

If you're looking for a fantasy book that doesn't have any romance or a super heavy plot, definitely check this one out. But, don't go into this reading a lot of reviews because this book does have mixed reviews and that kind of can bum you out. If you do decide to read it or have read it already, let me know in the comments below and I'll see y'all in the next one!