This weekly meme is hosted over at The Broke and the Bookish. Go check them out and don't forget to add your blog post's link so everyone can see your top ten, if you do decide to join!
Top Ten Books In My Summer TBR List
I've only read 1 book from this pile and summer is already one week away from being halfway through, so I've got to get my reading on!
1. Game of Thrones by George R.R. Martin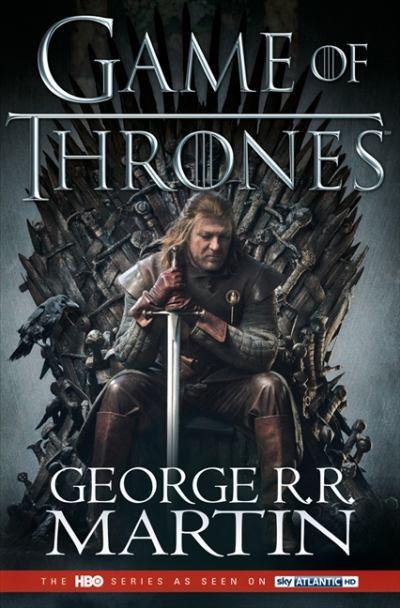 I've been wanting to pick this up even before the TV series came out because I feel like I need some kick to get into the fantasy genre because all I've read are like the Harry Potter Series and Rick Riordan's books and I think it's time to move on from them, not like forgetting them but like get other takes/experiences on the fantasy world. So, yeah I am really excited to finally start this series.
2. Maze of Bones by Rick Riordan
I've already read this book during the #AYearAThon because the theme for the month of June was Rick Riordan. When 2014 started, my TBR was just way out of hand. This particular series already took 10 books and I know that I need to get this done. I told myself that I'm going to finish this series by the end of the year. But during the first months of the year, I was in a major reading slump because of stress and pressure from school. So, I've decided that I'll finish the series during the summer because I know I'm not going to be able to get a lot of reading when school starts again.
3. Bruiser by Neil Shusterman
I got this book from a book fair around two years ago and I remembered being so excited because this was like the first contemporary book that I bought that's told in a male point of view (I've never read any John Green books that time, even though he did have 4 or 5 books published). I'm planning to read this during the Trees of Reverie June Read-a-thon. If you want to check out my planned TBR for that read-a-thon, click
here
.
4. This Is What Happy Looks Like by Jennifer E. Smith
My sister got this book recently, and we do share our books because it's much cheaper that way, and I've heard her liking her other book she wrote, which will also be featured on this list, so I'm really curious about how her writing style is because from the titles and covers, they look really interesting. This book is on my TBR stack for the Trees of Reverie June Read-a-thon.
5. Across The Universe by Beth Revis
My friend gave me this before school ended and I remember being interested in buying this book before he did give it to me, so I was like "Yes!" The original cover of this book is stunning and I have heard and saw the cover changes of the whole trilogy and I just don't get why they had to change them. But aside from the cover change dilemma, I am pretty excited about this trilogy and this is my first space sci-fi book to ever read.
6. Eon by Alison Goodman
This book was also given to me by the same friend who gave me the Across The Universe, and he said that he'll just won't be able to come around reading this because he does have a lot of other books to read. Trust me on this when I say that he has a way bigger TBR pile than me. I am kind of interested with the whole dragon story line because I've never read any of those and this is another fantasy book, so I'm really excited!
7. Son of Neptune by Rick Riordan
I am so excited for this series, like I can't even contain it! I've already read The Lost Hero before then and reread it for the June #AYearAThon. And now, I am going to be able to read in Percy's point of view again! I feel like it's been so long, even though I did reread the whole Percy Jackson & the Olympians series for the #AYearAThon.
8. The Statistical Probability of Love at First Sight by Jennifer E. Smith
So, this is the book I was talking about in number 4 and I am excited to finally read this book, because I was the one that bought it and my sister read it before me and liked it. I'm not a firm believer of love at first sight, so I'm not going to have like expectations in actually believing there's a statistic on love at first sight but we'll see.
9. Paper Towns by John Green
I started this book when I was in 8th grade and was not able to finish it because I only borrowed it from the public library and, obviously, a lot of people were requesting it during the time so I wasn't able to renew it. From what I read so far, I did like it it even though I did have a problem with Margo, but I think that added and will add more to my reading experience.
10. City of Bones by Cassandra Clare
I have read this before because of all the hype and I mean it was okay for me but I do want to marathon the series since the last book just came out and I got it. I hope that when I pick it up the second time I'll be able to connect more with the characters and plot itself, because I did have a hard time taking everything, the world building and other characters, in.
So sorry if this post is too long and the spacing is kind of whack! This list was hard to bring down because I do want to read a lot of books this summer but these are the ones I am most excited about. I will be doing reviews for some of these books so look out for that!
Comment below what you think of this list and yours too if you want, I would love to see them.
And see y'all next Wednesday!